Team:
| | |
| --- | --- |
| team member | contribution |
| Tim Eichler | Box assembly, programming |
| Evan Wessle | Box assembly, programming |
| Sienna Jones | purchase materials, blog post |
| Connor Park | video report |
Introduction
The Song Trainer 2.0 is a game that tests the skills of of how well someone can control the pitch of their vocal chords.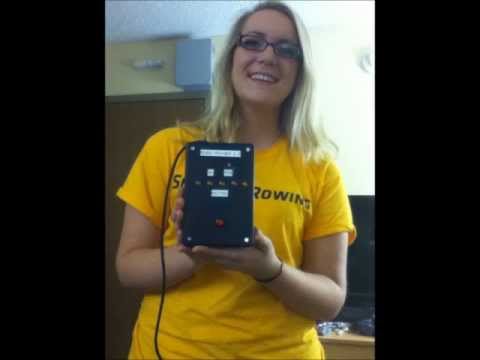 Description
First, you press the start button and the computer will play a part of the song you need to sing/hum back. The Song Trainer 2.0 will rate how well you kept the pitch of the song by scoring you out of five. If you get better than a 60%, you get to move on to the next level. If you make it to the end, you win! Congrats!
We bought a project box and drilled holes into it: Five holes for the orange rating LED's, Two holes for the red and green start/stop LED's, and one for the START button.
Reflection
The project box and LED's fit together and made a very good combination. We had problems getting the processing to work with the LED's and sound.
Program Codes
Pd extended code: pitch-detector-(1)
Processing code: singing_songing
Arduino code: Finalprojectarduino