Team:
| | |
| --- | --- |
| team member | contribution |
| Dalton Ediger | Soldering, Wiring, Built House |
| Grant Bechtel | Soldering, Wiring |
| Austin Phillips | Painting, Wiring Design |
| Alex Pierpoint | Decorating |
Introduction
We made a small house that has 200 LED lights, that look like Christmas lights, that played to music. We built upon an old project of a foam house and ran with it.  
Description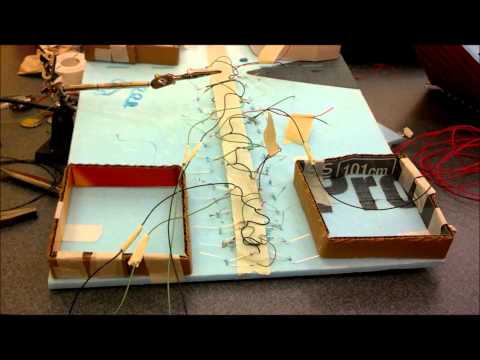 We took a 12 inch tall house and stuffed 200 LED lights two arduinos in to it. We used a 12 volt power supply to power the LEDs and then programmed the arduinos to control FETs at the lights grounds to control their brightness. the wiring was fairly straight foreword but there just was a lot of it. To build the actual house we took the old house and made a new base and cut out a front yard, fence and a roof. then we put them together and added fake trees and grass and then made shingles out of sand paper. Then we pushed the LEDs through the foam and soldered them inside the house.   

The project functioned just as designed.  The 200 LEDs flashed according to the 14 band sound spectrum just as designed.  While testing the project we discovered that it had an overheating problem.  To correct this we added a cooling fan to the back of the house which fixed the problem.  If we could do the project over again we would simplify and organize the wiring more, order LEDs sooner, and use higher capacity resistors to eliminate the heat problem.  If we could expand our project we would build the rest of the neighborhood around the house.